4S Webs is a professional workshop, located in Stockport, providing web designer (Cheshire) services. Our aim is to deliver attractive, usable, search engine friendly and affordable websites to individuals, groups and businesses. We pride ourselves in our customer liaison and take pleasure in the fact that numerous web clients who joined us in 2000 are still with us today. In the past 11 years we have worked closely with a wide range of companies, organisations and individuals who had very varied web design needs – in numerous cases taking over and successfully redeveloping existing websites that the owners were unhappy with. Our client base is mostly located in Stockport, Cheshire, Manchester, Trafford and Tameside and for a number of years (until funding initiatives ceased) we were an approved Tameside Business Community web designer and clients joining us under that funded scheme remain with us now.
Our Workshop
The company was formed in 2000 by Joan Ward, who was previously employed in the Higher Education sector, with responsibility for systems development and financial and administrative management at a high level, having a science degree background with subsequent completion of Masters degree in Business Administration that focused on systems and marketing. During the latter years in that role one of the projects that she was responsible for involved specifying,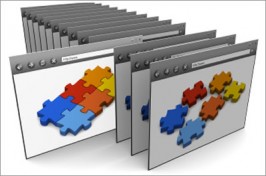 developing and delivering a new intranet and an internal online management reporting tool. It was this project that sparked her interest in web design and development and this subsequently led to the company setup.
4S Webs –  Web Designer (Cheshire) has a varied skill-set available in-house: for website design, development, database setup & support, graphic design, website/search engine optimisation (SEO), marketing, general project management and we have access to any additional skill-sets amongst close web design colleagues if our in-house expertise needs enhancing. We can provide for simple brochure-style sites through to e-commerce, database-driven sites, intranets, blogs and content management sites. Examples of a few of our sites are listed on our website design portfolio page.
Why choose  4s Web Designer (Cheshire)?
We pride ourselves on our client liaison and we work hard to understand and satisfy your web requirements
We pay close attention to your customer needs
We provide you with a quality, search engine friendly website at an affordable price
We provide sound advice about how best to deliver your project requirements, based on many years experience
We consider each project to be unique and we tailor our websites to best meet those unique needs
We employ a tried and tested website planning and design process
We are here for the  'long haul'
So why not contact us and discuss your project with an experienced professional web designer (Cheshire) – we'll be happy to help.