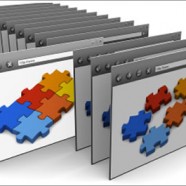 Business blogs are a phenomena that is picking up considerable momentum as companies/individuals traders begin to realise just what benefits business blogs can offer.
What is a Blog?
A blog is a series of articles/web pages that contain frequently information arranged chronologically and usually on a subject basis.
The boom of blogs (web-logs) really started to happen in late 1990's when several companies & developers made easy blogging software and tools available and since then the number of blogs on the Internet has exploded from a few thousand to well over 100 million.
Blogs tend to fall into into two general categories.
Personal Blogs: a mixture of a personal diary, opinion posts and research links.
Business Blogs: a corporate tool for communicating with customers or employees to share knowledge and expertise.
Business blogs are rapidly spreading through the business community, being  an excellent way to share information about a company's expertise, build additional web traffic and connect with potential future customers.
What Business Blogging Provides, Particularly to Small Business
Business blogging can provide your small business with a chance to share your expertise, information and knowledge about products/services with a larger audience than might normally be available to you.  This can provide powerful benefits, particularly for consultants and knowledge providers.
Business blogs give you an opportunity to provide just what the major search engines are looking for ie. relevant, up-to-date, informative content – many websites once setup just don't change over time and sites that do can therefore be seen to be more active/up-t0-date by the search engines.
Search engine results positioning (SERPS) can be critical to a business and running an informative, active company blog can bring significant improvements to your natural SERPS
Blogging for your business can provide you with an opportunity to bring information about new products and/or special deals to the attention of a large audience without the expense of a hardcopy leaflet/marketing campaign
Not only can you use business blogging as a way of communicating and engaging with your customers, they can also be really useful in terms of keeping your staff up-to-date with your news and business developments, and can provide a mechanism for them to ask questions and get answers. Internal communication can of course remain hidden from the wider community so that your employees see information that you may not be ready to share with the wider internet community.
In addition to being a mechanism for spreading information it can also provide a useful recruiting tool for your company. Potential employees can learn about your culture, your policies, your way of interacting with the world, and the process you use for hiring employees. Business blogging is a powerful tool for engaging the people who might want to potentially work for you.
Blog software readily available, and once setup, is easy to us. Simply write down your thoughts/information on a regular and frequent basis, link to resources, and publish to your article/blog, all at the click of a few buttons.
Blog software facilities such as: WordPress, Movable Type, Blogger.com etc all offer easy to use blogging tools.
Blogs can be incorporated into a large proportion websites and for small business owners without the time to learn web language/programming blogging can offer an inexpensive way of getting your company's name/brand more well-known on the Internet. Whilst you may benefit from the input of  a web designer with the initial design/setup of the blog, once it is up an running you can upload all the new content yourself, thereby keeping running costs to a minimum.
I guess overall the question should not be "what can a business blog do for me", but instead it should be  "how can I get started with business blogging as soon a possible". If you are at the latter point then please
contact us
and we can offer help and advice getting your
business blog
started.