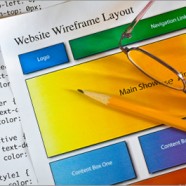 So you think you or your business/organisation needs a website? The first question that is often asked is "do I need a professional web design services or can I use one of the DIY web facilities?". Well, following are some thoughts that may help you with your decision.
The web has had a major impact both our personal and working/business lives and whether you need a sizeable website in order to promote and sell your goods and/or services or whether you need just a minimal presence on the web a pre-requisite for getting your site noticed are web pages that are both visually appealing and serve the needs of your target audience – in my opinion an effective website is firmly rooted in good design. The decision about whether you can get the sort of website that you need from one of the DIY template services that are available online, or whether you need the services of a professional website designer may largely be dependent on a number of factors (budget not surprisingly being an important one)
DIY Web Design/Setup – Pros and Cons:
1. You have a very limited budget – using an online template service, where designs are pre-defined, will almost certainly provide an inexpensive route into setting up a website. There are many providers of online web design templates around and websites can be setup for minimal cost in just a few hours without any specific knowledge of html etc. You need to be aware however that many of the template services offer limited support for their templates and indeed in some cases only email support (or online forums) are available.
2. You have a relatively small amount of information to display on the website, eg. you may be a small business that has generic products and services to promote.You may already have your information available in your hard-copy promotional material.
3. Some (but by no means all) of the template providers also offer web hosting and in such cases your hosting and site setup is often rolled into a single setup charge, or may be split over a monthly payment plan. If your template provider does not offer hosting then this can present a problem as you will need to arrange this for yourself and in addition to setting up the hosting you will also need some understanding of FTP in order to upload your pages.
4. You have limited requirement for updating your material once your website is released. In some instances template services will provide updating options, but not all of the services do this and they may be limitations on what you can modify without having to have access to specific web programming software.
5. You have no real need for a bespoke style – there are many templates available online and these templates allow for choice of colours and images, but in many cases there are no options to change structural elements within a page (eg. widths of columns etc).
Using a Professional Web Designer – Pros and Cons: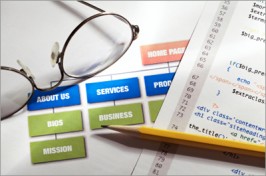 1. Budget – although hiring a professional web designer may appear to be an expensive option when compared to using a DIY templates, this is often money well spent and setting up a website can take more time than anticipated, especially if you have prior experience of doing this. When using a professional you are in most cases paying not only for their time in designing and setting up your site, but you are also paying for their experience and knowledge of what is possible and effective. You should also have an end product that is not only stylish and attractive, but more importantly, is 'fit for purpose'.
2. Style – web design DIY templates are generally static designs and although you may be able to change colours and images there is usually little or no 'bespoke' element available. This can mean that the basic style that you use is replicated many times across the internet and does not therefore stand out from the crowd nor reflect your image effectively. A professional web deisgner will usually develop a bespoke style that suits your particular needs and personal preferences and will match existing brand designs if necessary. This should ensure that you get what you want and that your site reflects the image that you want to present.
3. Functionality – DIY templates are usually based on static coding and they deliver a limited amount of functionality, whereas a professional designer will often have a range of techniques and programming skills available to them that can be used on your site. This should mean that there are few limitations on the layout, content and functionality that be built into your website. The possibilities are almost endless and the site should therefore be just what your target audience is looking for.
4. Integration – external functionality and services can be incorporated into your site to improve its effectiveness and efficiency eg. newsletter sign-ups, payment processing/authorisation, social networking etc.
5. Search Engine Optimisation – when it comes to rating well in search engine rankings/results DIY templates rarely perform effectively as they take little or no account of the needs of the search engines. Most professional web designers will incorporate basic search engine optimisation elements in your site and can advise on, and sometimes provide, ongoing SEO support/promotion activities in order to continue to build your website profile over time. Clearly attracting the right sort of traffic to your website is critical to many website owners and SEO professionals continually develop their services to keep up-to-speed with the ever-changing internet landscape.
6. Support – in most cases web design professional also offer ongoing support for the sites that they design. A good website is not just about good design it is about planning and appropriate support. It is important that where the site is hosting is robust enough for the needs of the site and designers will have access to reliable hosting that can respond quickly to operational issues if they arise. In addition professionals will be able to advise on a whole range of support services that you may need to help support your website and business/organisation's goals. DIY template providers rarely offer any advise about how best to develop your online presence and offer only limited support for the web pages that are based on their templates once those templates have been uploaded onto a site.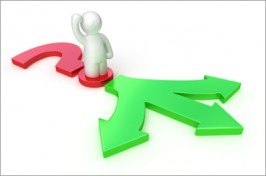 In summary, when making decisions about how to go about setting up your website you need to consider not only the obvious issues about cost and speed of delivery but you also have to look at all the other elements that go towards building a website that matches the owners goals with the needs of the site's target audience. In addition you have to consider how your target audience is going to find your site – just because you have one doens't mean that it will naturally move towards the top of the search engine rankings/results – just ask yourself what makes your site different from all the other tens of thousands of websites offering similar services or selling similar products? Using a professional web designer may look to be a more expensive option than going down the DIY route, but in the longer term it is usually more cost effective as you get more than just a website…..and it leaves you free to concentrate on what you are good at!
If you are interested in using a professional web design service then please give us a call or email us – we will be happy to advise on  the best website design packages for you.