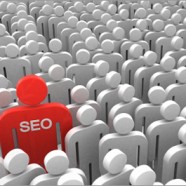 Search engine optimisation (SEO) is the action of optimising a web site by improving internal and external elements in order to increase the traffic that is driven to a website  from search engines. Sites that consider and use  SEO vary massively; some having a highly specialised focus, whilst others have more generalised content. Optimising a web site for search engines involves looking at many unique elements of a site and search engine optimisation consuktants will often need to work in collaboration with website designers, since so many of the elements that they work with interlink.
This article is designed to describe general aspects of SEO – rather than provide an in-depth guide to the subject. We hope thereby to give you some insight into why it is important to consider search engine optimisation issues, preferably before any website work is started, although clearly it is never too late to consider this issue. Don't worry, if you are confused about this subject, you are not alone.
SEO – Why is it Important For Your Website?
The majority of web traffic is driven to your site via the major commercial search engines – Google, Bing and Yahoo! etc. If your site cannot be found by search engines or your content cannot be put into their databases, you miss out on the incredible opportunities available to websites listed in search engine results  – ie. people who want what you offer through your site. Whether your site provides content, services, products, or information, search engines are a primary method of navigation for almost all internet users and website owners should really consider that in terms of online marketing, their website is being marketed to the search engines first and their client/customer market second.
Search keywords/key phrases ( ie. the words that users type into the search box) contain terms that you need to include within the body on your site, and they carry extraordinary value. Experience has shown that search engine traffic can make (or break) an organisation's success. Targeted visitors driven  to a website can provide publicity, revenue, and exposure like no other. Investing in SEO, whether through time or finances, can deliver an exceptional rate of return if done effectively.
How do Search Engines Respond to SEO activity?
The main focus of a search engines is to return relevant results to users and they work continually towards improving the technology that they use  to crawl the web more deeply and return the best range of websites that relate to the specified search terms. In short good quality, well-structured, relevant content is a must for your site as this is the bedrock of what the search engines use to position your site in their results listings. In addition it is usually also important to ensure that this content changes and is updated on a periodic basis, so that the search engines know that your site is relevant to current searching activity. However, there is and will always be a limit to how search engines can operate. Whereas, the right moves can net you thousands of visitors and attention, the wrong moves can effectively bury your site well down the list of results returned thereby making exposure very limited. In addition to making content available to search engines, SEO can also help boost rankings so that content once found will be placed where searchers will readily see it. It is without doubt that as the volume of website pages increase and the online environment becomes increasingly competitive, those companies who undertake search engine optimisation, and importantly continue to do this as an ongoing process, will have a decided advantage when trying to attract visitors and potential customers.
Further articles will follow that provide more in-depth detail about what aspects of a website contribute to its online profile and how those elements can be enhanced by effective search engine optimisation (SEO) to make your website stand out from the crowd. If you have any questions about SEO and would like to discuss how your website search engine profile can be improved please contact us, we will be happy to help.